my hunter sona film that promotes the accusation that President Joe Biden profited from his son's allegedly harmful international deals, is filled with outrageous moments from start to finish.
Veteran badass actor Robert Davi returns to the director's chair for the third time in a film written by Brian Gadawa.
"I don't believe any voice should be held back in America, like the left is doing," Davi said. Newsweek. "In Hollywood today, most conservatives are afraid to speak out. That has to change."
The film repeatedly mocks the Biden family, liberals and the media as it attempts to shed light on a history filled with conspiracy theories and political wrongdoing. The film seems to be inspired by Martin Scorsese's film The wolf of Wall Street as the characters turn regularly to speak to the audience.
The film is largely based on the story of the "laptop from hell" that Hunter Biden mistakenly dumped in a repair shop, and which included emails that curators say are the proof that then-Vice President Biden took advantage of his son's "influence peddling".
The laptop episode, which also featured footage of Hunter Biden using drugs and having fun with women, is at the center of conservative accusations of a coordinated cover-up by Big Tech and the mainstream media at the approaching Biden's 2020 election victory over former President Donald Trump.
However, no evidence has emerged of wrongdoing on the part of the president.
Hunter Biden has repeatedly asserted his innocence of the charges and his father said he was "confident" his son did not break the law, the White House has said.
The film plays on the controversial nature of its creation with the opening line "this is not a true story, except for all the facts", said by the former star wars actress Gina Carano who plays a fictional Secret Service agent.
From there, it's filled with accusations of criminal activity against Hunter and Joe Biden, sex, drug abuse, scandal, exploitation, and murder.
Mock BLM protest
One of the film's opening scenes is set in December 2019 and focuses on reporting during a Black Lives Matter (BLM) protest.
A reporter at the scene describes the protest as people chant with picket signs and images of looting and property damage are shown.
The report's banner reads 'mostly peaceful BLM protests' in reference to an actual incident in 2020 where a CNN report said the protests were 'fiery but mostly peaceful' as they stood in front of burning vehicles .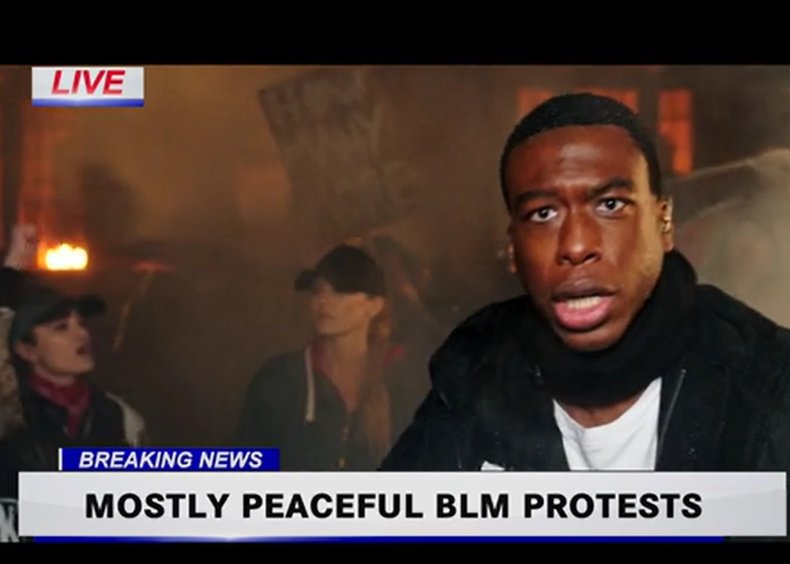 One of the central characters is also introduced in this scene, Grace, played by Emma Gojkovic, who addresses the reporter and says that she and the other liberal protesters are fighting oppression while complaining "about a man orange who tweets from the ass" in reference to Trump.
Grace is later revealed to be a stripper who befriends Hunter Biden, played by conservative activist Laurence Fox, who lost his bid for mayor of London in 2021.
The report eventually drifts away from the protest after a fight appears to break out.
Returning to the character of Grace and a friend she is protesting with, the couple discuss withholding footage from the protest as it could show a negative light on the Black Lives Matter movement.
The unnamed character also goes on a rant saying "most people are too ignorant to understand complex moral issues", and concludes that the information should be withheld for their own good.
Hunter Biden's drugs, partying and sexual exploits
The film also shines a light on Hunter Biden's drug addiction and past abuse. President Biden spoke about his son's drug use and reaffirmed his confidence that he will overcome his addiction.
"He's gonna beat this. This kid, I'm telling you," Biden said in 2019, during an interview with CNN's Chris Cuomo.
"Beautiful is my soul, Hunter is my heart. And Hunter has been through hard times, but he fights. He fights. He never gave up. He's the most honorable and decent person I know ."
my hunter son shows Fox's Hunter Biden repeatedly taking cocaine and shows flashbacks to parties with strippers.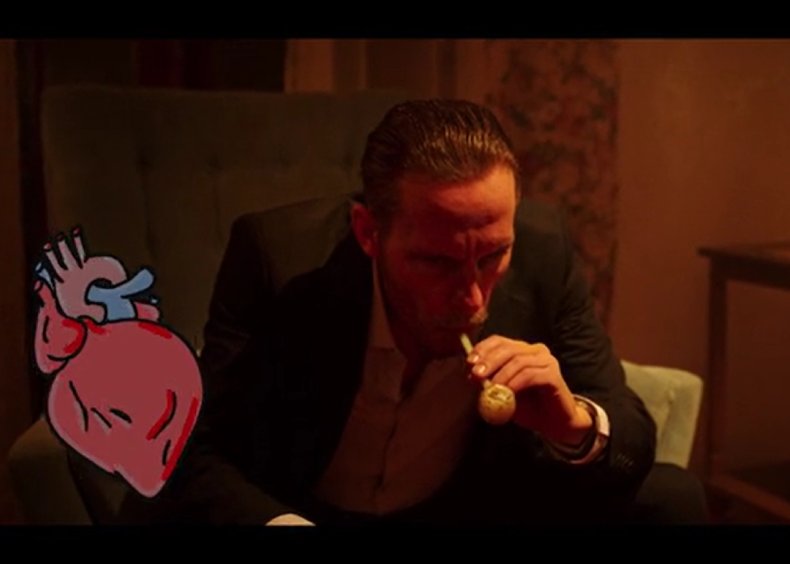 On top of that, it shows Hunter smoking through a crack pipe and regularly taking a series of pills while telling his father Joe Biden, played by John James to Dynasty fame, that he's been sober for weeks.
In a moment of absurdity at a drug-fueled party, Hunter has a brief conversation with a dog at a party through visible bubbles.
It is this intervention that forces Hunter Biden to realize that the people in the room are not his friends and are using him.
While making multiple references to Hunter Biden using the services of sex workers, the film also paints him in a sympathetic light.
The story paints a picture of self-loathing and self-destruction under the guise of inadequacy in her father's eyes compared to her late brother Beau Biden, who died in 2015 of brain cancer at the age of 46.
Representation of Joe Biden
Joe Biden is repeatedly mocked throughout the film with embarrassing gaffes, such as using the word "erection" instead of "election" while burning Hunter on his laptop.
The film also plays on the sexual assault allegations that Joe Biden had to refute in his political career.
In 2020, during his presidential campaign, Biden addressed the 1993 sexual assault allegations of former Senate member Tara Reade.
"So I want to respond to a former staffer's allegations that I was wrongful 27 years ago. They are not true. It never happened," Biden said in a statement.
However, in Davi's film, Biden seems insincere about his concern for women's rights. At one point, he forgets the name of the #MeToo movement, calling it the "I'm with her" movement.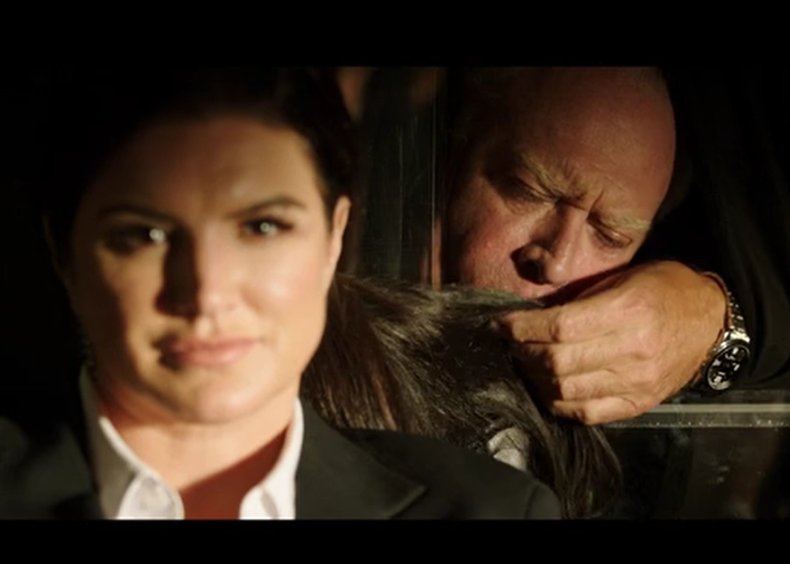 On top of that, Biden is seen sniffing Carano's character's hair.
On top of that, Biden is relishing positive media coverage and gloating over their negative portrayal of Trump. He also jokes about his insincerity, mockingly telling the audience that he knew nothing about his son's alleged illegal activities.
Persecution of Uighurs in China
Despite the comedic and accusatory nature of the film, there is a brief scene that addresses the allegations against China and its treatment of the Ugyhurs.
The scene is framed by the suggestion that Hunter Biden's work with the Chinese businessman and Communist Party supporters directly led to the torture and genocide of the Ugyhur people.
The United Nations has concluded that "serious human rights violations" have been committed by the Chinese government against the Ugyur Muslim people.
China says its program of "vocational education and training centers" – with the stated aim of re-educating and de-radicalizing the population of Xinjiang – has been halted.
However, the researchers found that "the laws and policies that underpin it remain in place", pointing to cases of forced labor, mass surveillance and population control. Detention centers were likened to concentration camps.
In the film, Gojkovic's Grace tells Fox's Hunter Biden that she personally understands the suffering of Ugyhur Muslims in a scene that takes on a more serious tone.
She said that while her parents were missionaries in China, her family sponsored families to get them asylum in the United States. However, a woman has now stopped communicating with them and is believed to have been taken away by the Chinese government and is presumed dead.
She added that China's consistent and thorough use of surveillance has enabled them to identify and target those who fight against Communist Party rule. The scene then suggested that Hunter Biden may have known about the alleged torture by the Chinese.
End of alternate history
One of the most scandalous facets of my hunter son is the ending that offers an alternate history in America. After Grace pleads with Hunter to release all information about her alleged wrongdoing, she struggles with the decision to speak to the press herself.
Eventually, she decides to share her audio recordings of her conversations on social media, but is met with attacks and accusations of being a Trump supporter.
Until former New York Mayor and Trump ally Rudy Giuliani showed interest in what she had to say. In this version of the story, the audio recordings are released and the data found on Hunter's laptop leads to his arrest.
Through another fictional news segment, a news anchor says this is bad news for Biden's presidential campaign.
Due to the ripple effects, Donald Trump is re-elected President of the United States in a landslide victory, much to the delight of the news anchor.
Talk to Newsweekdocumentarians Ann McElhinney and Phelim McAleer spoke about the importance and significance of the film in today's political climate.
"The Hunter Biden laptop was a massive story that was intentionally censored by mainstream media and big tech before the election, it's unprecedented. We made this movie to tell that story in a creative and fun way," McElhinney said.
"We're getting a wonderful response, just check out Twitter and our YouTube channel. People seem to like the humor, they seem to be watching a different movie than the critics."
She also dismissed some reactions from critics as "pathetic" and pointed out that some proudly said they hadn't seen the film.
McAleer also noted that Hollywood "should have waited in line to tell this story".
"We just wanted this story out. The story got deleted and as journalists we just couldn't stand it," he said.
"I grew up in Northern Ireland during the Troubles so the truth is important.
"The truth can't hurt, what happened before the last election was unprecedented. Big Tech and Big Media were proud to suppress a story. We're proud to help defeat this censorship."
Newsweek contacted the White House for comment.